EBERLE FAMILY
DESCENDANTS OF MAGDALENA KANJE HEISER AND JOANNES JACOBUS EBERLE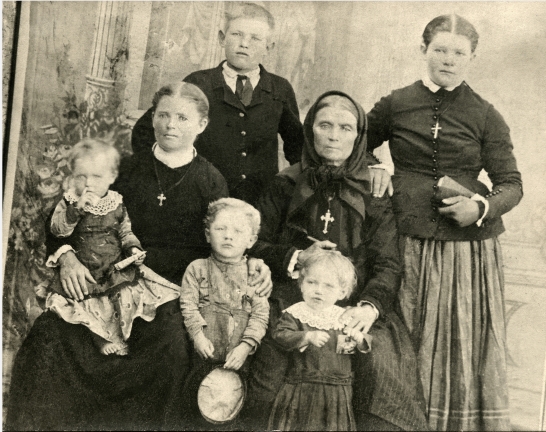 1. CATHERINE EBERLE MERCK (age 28) and her mother Magdalena Heiser. On Catherine's lap is daughter Lucia ( Lucy ) and son Joseph by her knee. Behind her is her brother Jacob Eberle and on the right, her youngest sister Mary Magdalene Eberle Grau. A Grau child is in front of Magdalena Heiser.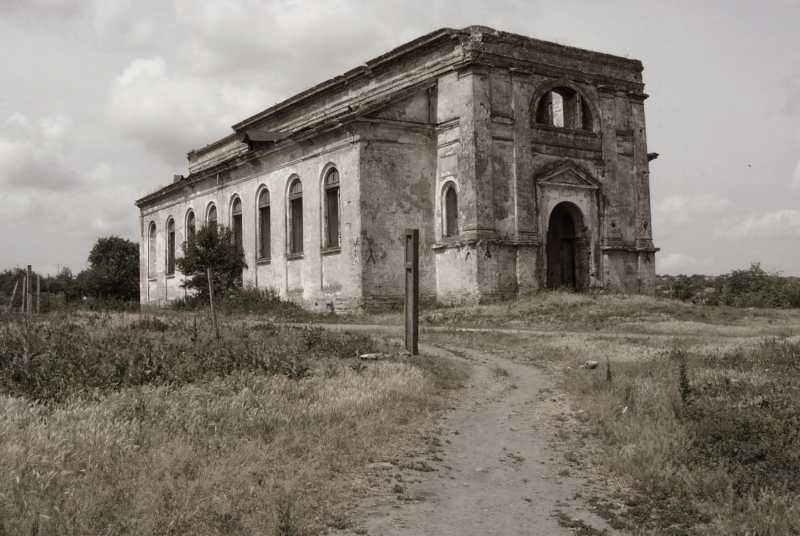 2. Church in Mannheim where Catherine and Joseph were married. Photo taken in 2007.
The Eberle sibling photos are in birth order, except for Catherine. Catherine was born between Tecla and Felix and is featured with her descendants after the other Eberles.
| | |
| --- | --- |
| 3. BARBARA EBERLE HEGELE, oldest sister of Catherine, and her daughters. On the right is Barbara's daughter Magdalena, whose son John Gorman lived in Canada. John Gorman visited Portland Oregon in the 1950's seeking any news of his family, who he knew had been sent to Siberia. No one was able to help him. Photo taken in Russia. | 4. Back of photo # 3 (text on photo side in English, script on back appears Russian. Magdalene Rosera thought the photos of Barbara and Ursula were taken in Russia) |
There are no photos or documents regarding Dominic Eberle, born 1859, the eldest son and second child of Magdalena Heiser and Joannes Eberle.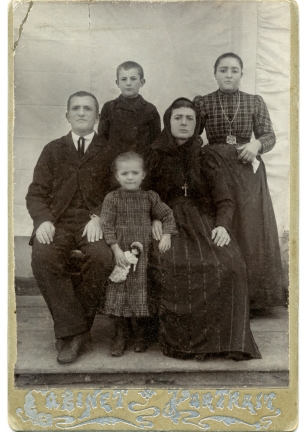 5. URSULA EBERLE BOHN and family, including son Nick.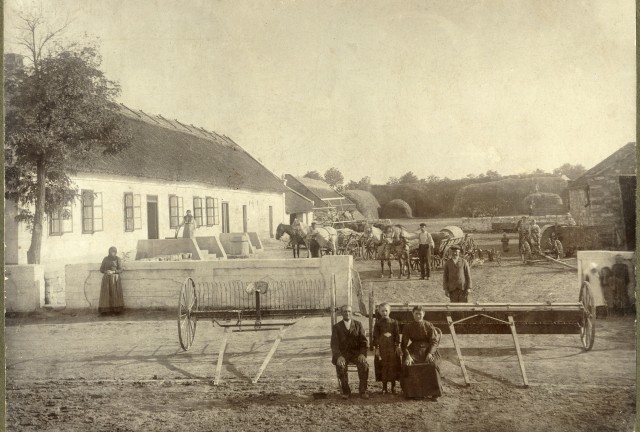 6. Ursula Bohn and family on their farm, believed to be in Russia. ( now Ukraine )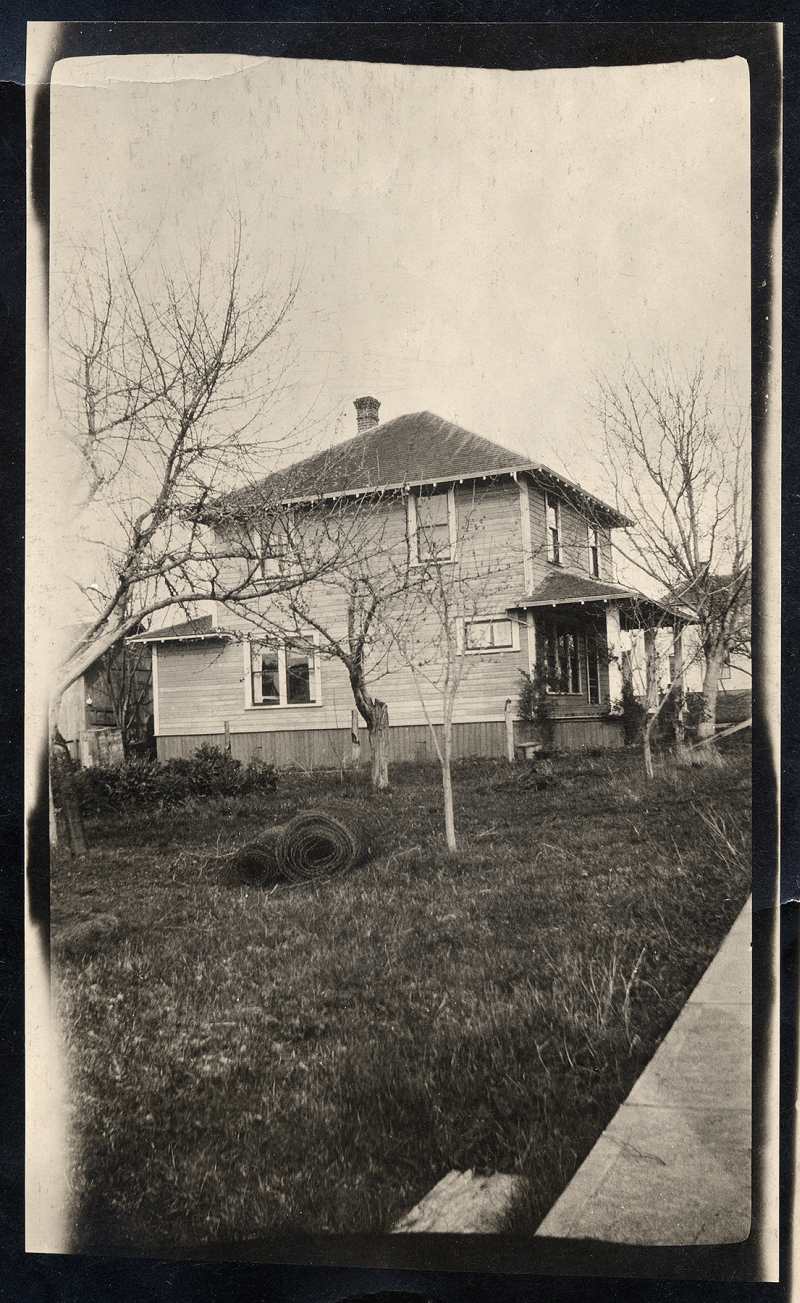 7. TECLA EBERLE MOFFENBIER family house in Mt. Angel, Oregon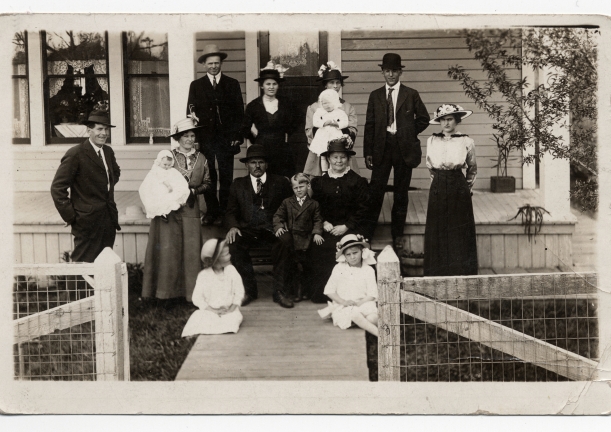 8. Tecla and Joseph Moffenbier seated on the porch of their home in Mt. Angel, surrounded by family. Back row, L to R, Phil Lutz and wife Margaret Moffenbier Lutz, Regina (holding child) and Louis Moffenbier. In front of porch, L to R, Mr. Thresher and wife Theresa Moffenbier Thresher, holding infant. Child in white dress and hat in front of Tecla Moffenbier is Helen Lutz. Others not identified.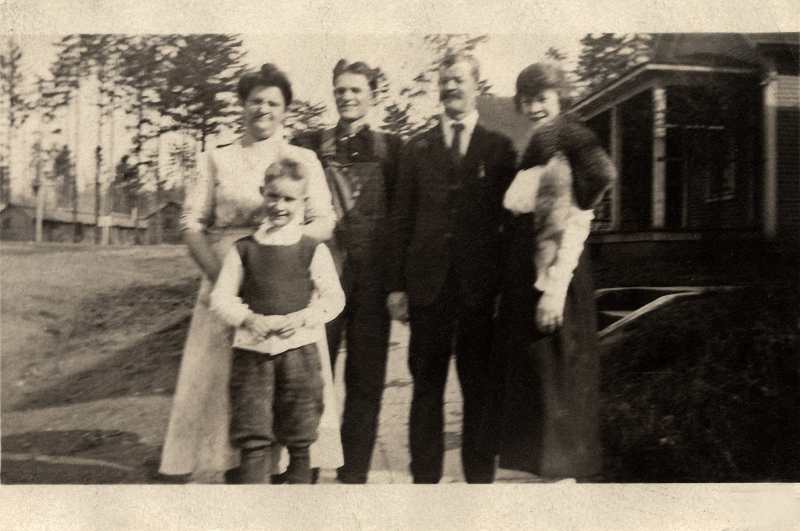 9. Group photo including Mary Magdalene Eberle Grau in white dress and Felix Eberle in dark suit, sister and brother of Catherine Eberle Merck. Others not identified.

10. Louis Moffenbier, son of Tecla and Joseph, and wife Regina.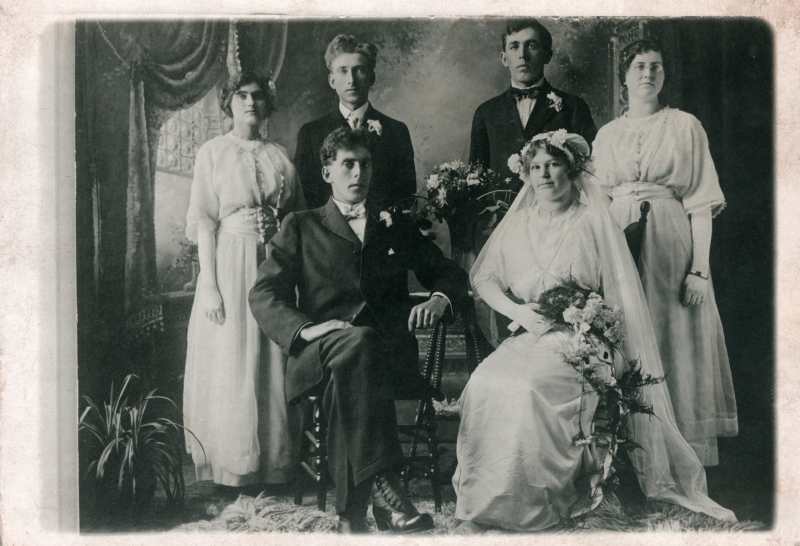 11. Theresa Moffenbier daughter of Tecla and Joseph, wedding to Mr. Thresher. Behind Theresa is one of her brothers.
* * * * * * * * * *

Home | Page 2 | Page 3 | Page 4 | Page 5 | Page 6 | Page 7 | Page 8 | Page 9 | Page 10 | Page 11