Anthony Clark Family
Anthony Clark was born in County Antrim, Northern Ireland, in 1739. He emigrated to the United States about 1752 according to our best estimates, most likely to Pennsylvania. It was there that he met and married Mary Elizabeth Oates on 3 November 1774 in Mercersburg, Franklin County. They emigrated to Lincoln County, North Carolina, after their first child was born in 1775. It was there that Mary died, apparently during the birth of their ninth child, Fannie. Anthony married Susannah McClure about 1803; they had three children. Prior to 1820, they relocated to Bedford County, Tennessee. Anthony Clark died there in 1827 where he was buried in the Clark Cemetery, near Bell Buckle, Tennessee. Some of the descendants who recently found the burial ground unattended have begun a project to restore the cemetery and preserve this history.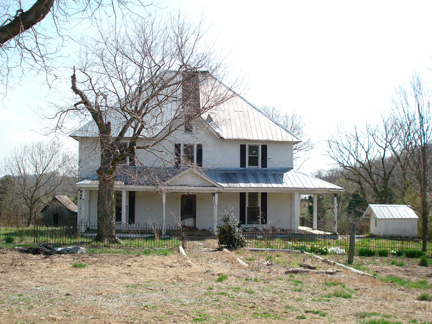 Clark family home near Bell Buckle, Tennessee.



Documented on this site is the data compiled on their descendants, dispersed throughout the United States. It is not complete, nor is it all verified. Your contributions to correct any errors or add to the record will be Appreciated. Names of living persons are intentionally blanked out to protect privacy.

---
Created November 15, 2008 and updated 27 October 2010