Ladies Golf Association
| | |
| --- | --- |
| | Members of the Ladies Golf Association celebrate the Christmas season with an annual party at the the home of one of the members. |
The Ladies Golf Association was organized in 1976 to promote women's golf at Foxwood.

Weekly friendly competitive play with lunch afterward (individual schedules for working ladies), general membership meetings, club tournaments, invitational tournaments, Round Robin participation and Christmas Party make for a busy golf season.

From concession and invitational tournament profits, LGA makes sizeable contributions to the Club for course and general improvements. The profits also support sunshine, sympathy, memorials, and donations to worthy causes.

For specifics about our activities, look at Foxwood's Upcoming Events on this website.


Want to join us? Contact:
President Carrie Sullivan, (phone number), (email address)
Vice President Barbara Donley, (phone number), (email address)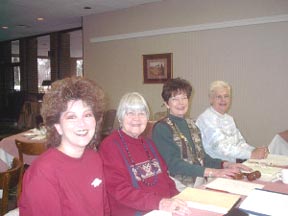 Officers for the current year are: (left to right) Carrie Sullivan, President; Barbara Donley, Vice President; Jo Merck, Secretary; Donna Hagewood, Treasurer.



(Note: Pictures and captions are placeholders only. Actual photos with corresponding captions should be inserted.)