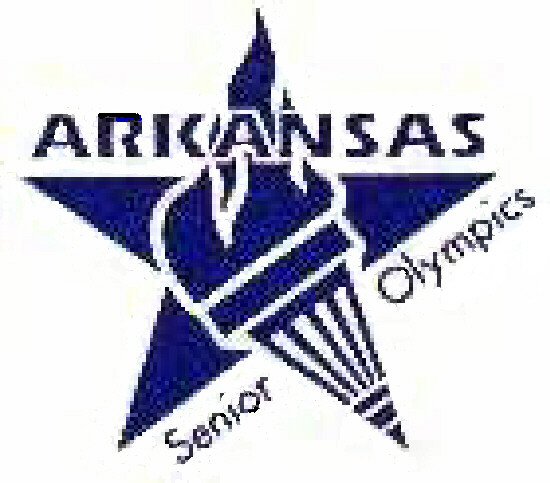 Award Winning Athletes!
Cunningham Award
Rod "Doc" Parker, Amity, earned the coveted 1997 Glenn Cunningham Memorial Award. This award is earned by the person who has scored the highest in sanctioned track events.
Doc Parker set two American records and one world record at the 1998 games in Hot Springs. He competed in the 75-79 age group.
In the above photo, Jerry Mabry presents the Glenn Cunningham Award to Dr. Rod Parker.
Van Matre Award
A new award, the Jan and Art Van Matre Memorial Award for outstanding performance in field events. was presented to Don Pellman. who competed in the 80-84 age group. Currently Pellman has earned more than 100 gold medals in eleven senior games held throughout the United States, including Arkansas.
In this photo, National Park Medical Center CEO Jerry Mabry, right, and Arkansas Senior Olympics Executive Director Gail Ezelle, left, present the first Van Matre Award to Don Pellman.
Past Cunningham Memorial Winners include Leon McClinton, 1988; Elizabeth Gann, 1989; Nash Abrams, 1990; Betty Whitaker, 1991; Jean Schooler, 1992; Everett Bolton. 1993; Richard Burleson, 1994; Shirley Goff. 1995; and Orlie Parker, 1996.
The 1998 Glenn Cunningham Memorial and Art and Jan Van Matre Memorial award winners will be announced at the 1999 Arkansas Senior Olympic Celebration For Athletes Banquet, September 17, 1999.

Back to the Arkansas Senior Olympics home page.
This page was updated on 3/9/99 by Ed Merck.