Visit With Mom, March 1999

Some of the family gathered again in St. Cloud in March 1999. Leo and his daughter, Roberta, arrived from North Carolina. Ed and his daughter, Connie Jo, came from Arkansas. Cathi came from Argyle MN and Mike and Jan came from Eagan MN.

These pictures were taken after lunch at Mom's apartment.

Click on the thumbnails to view a larger picture.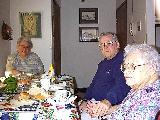 Cathi, Leo and Mom after a lunchtime snack.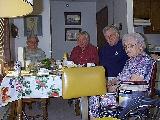 Cathi, Ed, and Leo visit with Mom over lunch.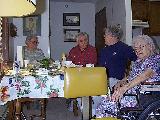 Another picture of the same four - Cathi, Ed, Leo and Mom.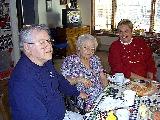 Leo, Mom and Connie Jo at lunch in Mom's apartment.

More Pictures: Pictures, Page Three and Page Four
Or Back To: Page One or Page Two

This page was posted on April 2, 1999 by Ed Merck.
If you have comments or suggestions, email me at ed_merck@yahoo.com